Volvo & Village Automotive
The History of Boston Volvo Cars
Back In 1957 - The Beginning
It's not an exaggeration to say that Volvo Cars USA and The Village Automotive Group would be very different companies today if not for each other.
Volvo's role in our story began in 1957, when Gene Brown Motors of Newton Corner, MA became the first dealership in New England to start selling this strange new imported vehicle from Sweden. Progress was slow - Gene Brown Motors was not a market juggernaut - until 1963 when a young veteran, college graduate and entrepreneur named Ray Ciccolo walked into the store looking to buy a used car. The car ended up being a side note when the store manager pitched this young go-getter on the idea of buying the struggling dealership instead! Ray left that day, sold off his burgeoning Laundromat empire, took over Gene Brown's note from the bank, and at the age of 25 entered the world of cars.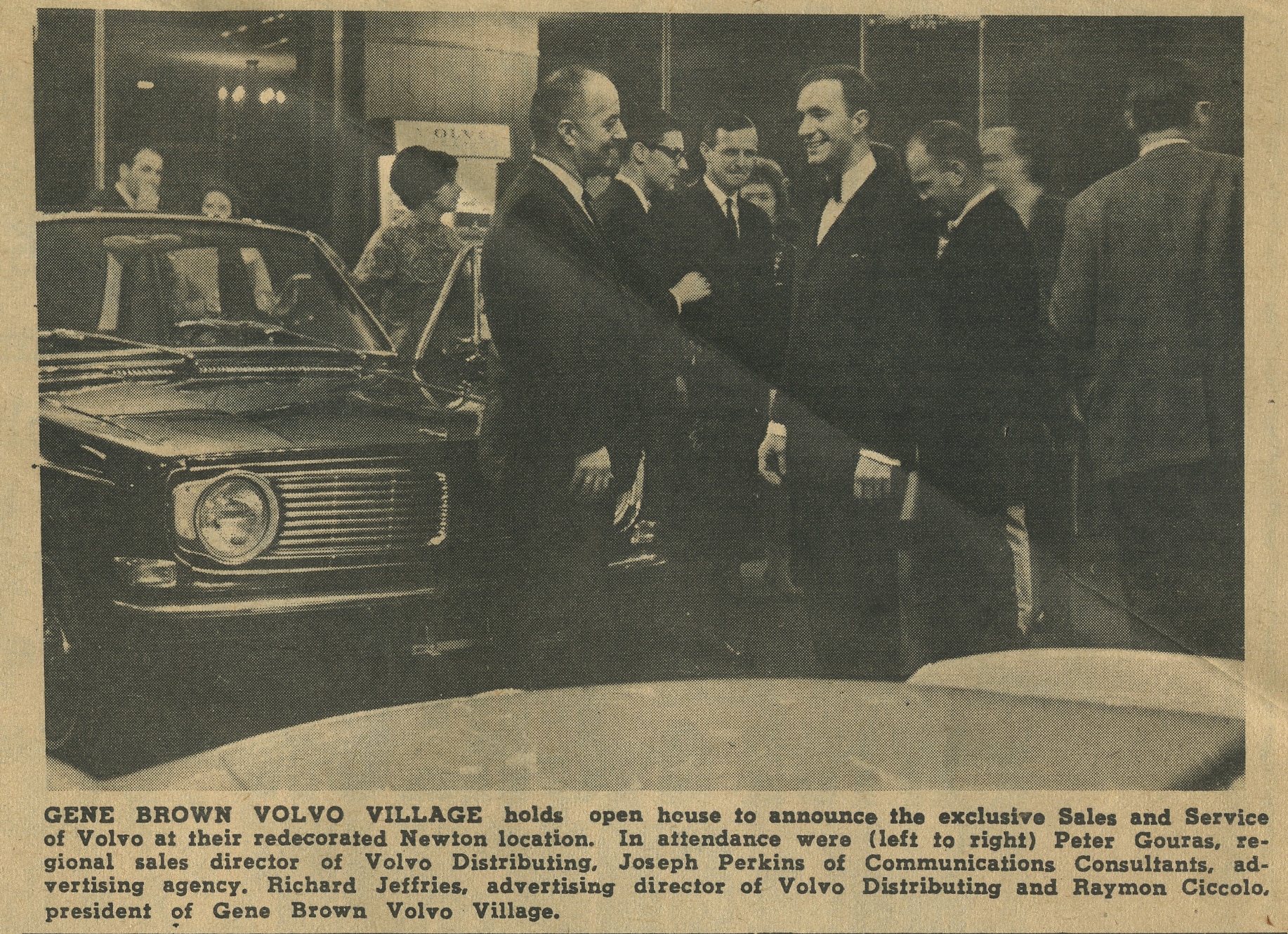 Besides knowing nothing about the car business, Ray was challenged by the fact that his main brand at the store - Rambler - was in a slow death spiral. Yet Ray had some huge advantages: an entrepreneur's heart and drive, along with an open mind that didn't rely on the old ways of doing things. And of course he had a sneaky great product with Volvo. Imports were not yet a thing, but if any area in the USA would be receptive to imports, the Greater Boston area was it. With our Yankee sensibilities and a certain open mindset, the safety and practicality and solidity of Volvos was alluring.
Growing and Innovating with Volvo
Realizing that Rambler was where his expenses lived and Volvo was where his profits resided, Ray did something unheard of in the 1960s: he jettisoned his domestic product and went all in on the import. Before long Ray was opening a second Volvo store in Cambridge - Boston Volvo - just outside Central Square in the shadows of MIT and Harvard. This would prove to be an excellent example of fishing where the fish are (or fishing where the elbow patches and pipe-smokers were). By the 1970's Ray was one of the top Volvo dealers in the USA, and had the largest Volvo Service and Parts operation in the nation.
Beyond a great product, Ray and we succeeded because he is an innovator. You can always get someone to try a new thing, but you have to give them good reasons to come back. Our stores excelled with great service departments, and our Parts departments sold from coast-to-coast, first via an 800 number, later as one of the first online parts stores. We championed Overseas Delivery, where you pick up your new Volvo in Europe. We created showrooms which were actually pleasant to be in. We had Volvo limos drive you into Boston while you car was being serviced. And we created a culture where people actually liked to come to work, so they ended up passing their good attitudes on to our customers.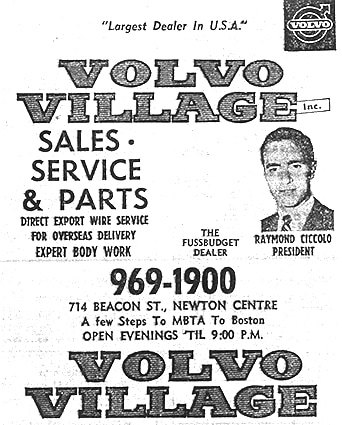 Relocating to Allston By the late 1980s we had outlived our Newton and Cambridge locations, and Ray took another big risk: he took both locations and combined them inside an old Mack Truck facility in a scruffy corner of Allston/Brighton. The area wasn't trendy, but the facility was big and conveniently located in-between Newton Center and Central Square. The extra space helped as we acquired the old Alewife Volvo in Arlington and absorbed it into our operation.
As the century turned, we kept on growing. We took over Stutz Volvo up in Salem, which is now Volvo Cars Danvers. We also folded 128 Volvo's operation into ours when the owners retired from the business and closed the location. In 2018 we moved Boston Volvo into a newly renovated historic building in Allston, next door to our now-old facility. And our formerly scruffy corner of Allston is one of the hottest neighborhoods in Boston, with new buildings popping up left and right. So now the oldest Volvo dealer in New England has the newest - and coolest - facility in our thriving corner of America.
There is no way of easily quantifying this, but we're pretty sure that outside of Sweden, no other organization has sold more things Volvo than us. We've been the largest Volvo dealer in one of Volvo's most important markets for over 60 years, and for most of our time in the Volvo business we have had the largest Volvo service and parts business in America. We've done a lot of growing together!
Village Automotive Today
Over the decades we've done okay for ourselves - beyond Volvo, we've sold Saabs and Cadillacs and many other brands, and we currently retail Audi, Porsche, GMC, Nissan, Honda, Polestar, McLaren, Koenigsegg, and Rimac. And Saab parts and service. We love the car business and the ability it has afforded us to be good corporate citizens, blessed enough to be able to give back to the community, the state and the country that have helped us succeed. But for Ray and for us, Volvo holds a very special place in our hearts - it's where it all began. Partners... For Life.